US As Built has many years of experience with Commercial properties and the ability to provide precise As built Plan | As Built drawings for single or multi-site projects.
Whether you are looking to remodel a single office space, or move forward with a more complex project with multiple commercial sites, we can provide everything you need for Commercial As-Built Plans and construction documents.
• Office • Retail • Industrial • Warehouse
• Apartment Homes • Condos
• Hotels • Schools
• Hospital/Medical Facilities
• Military and Government Facilities, Retail, Restaurant and Bank AS-Builts Surveys
3D Laser scanning as built plans :
We use the latest technology to provide you with cutting edge 3D laser scans of your project.  3D laser scanning can provide you with sharp, specific details of complex buildings, landscapes, or large areas. Our 3D scans collect thousands of 3D coordinates or points which create an extremely accurate output useful in managing a property. 3D laser scanning can capture an accurate measurement of an otherwise hard to access area with a hand measurement. When you need a hard to reach area accurately measured, we can use our 3D laser technology to provide a more accurate measurement than if done by hand. 3D laser scanning is used to measure more accurately, hard to reach areas with a hand measurement device. 3D laser scanning for commercial properties can greatly improve the visualization of a space by a prospective buyer or tenant.
Our team can make reality capture accessible to everyone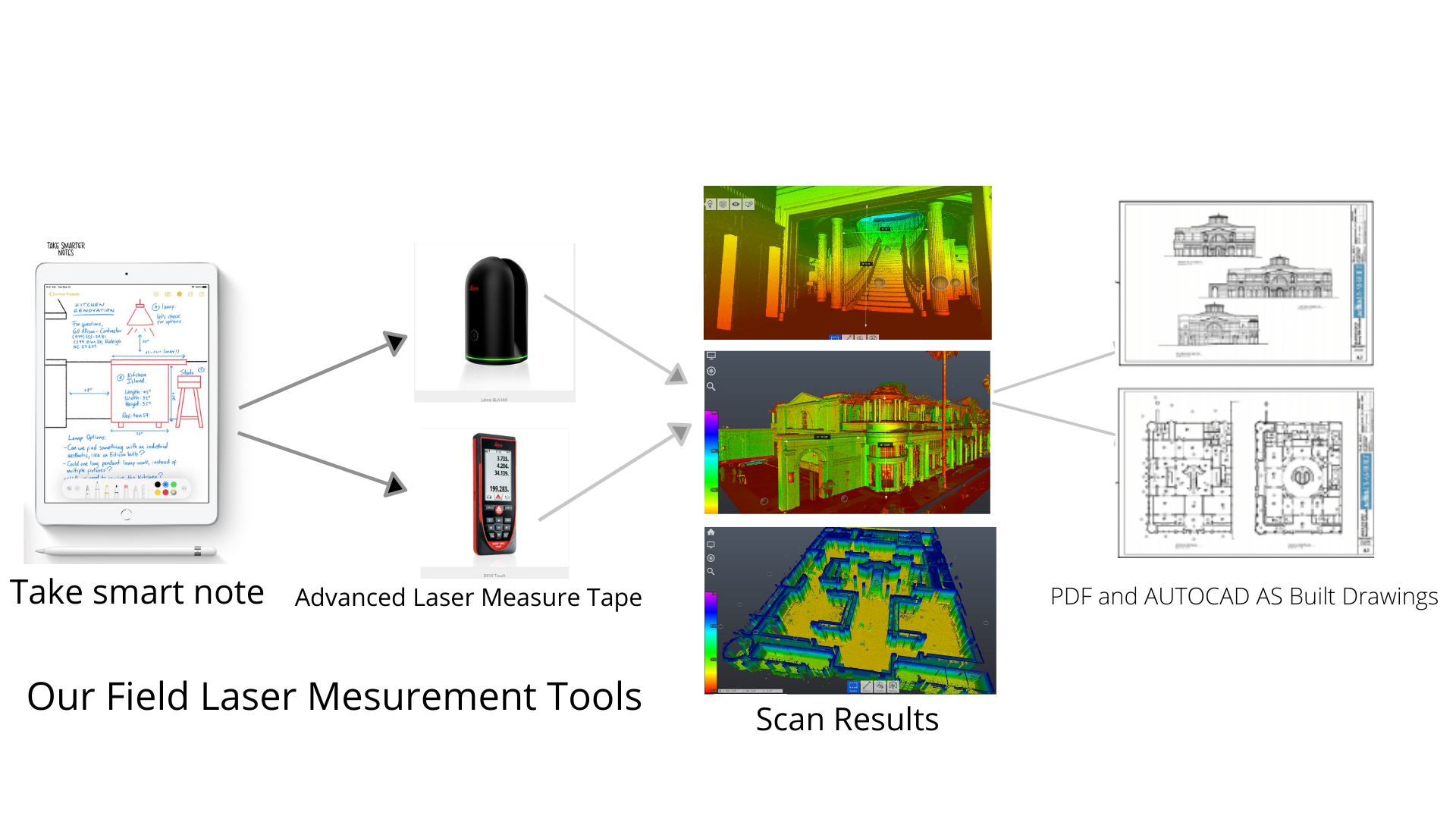 As-Built Services
✓ Building Outline
✓ Lighting Fixtures
✓ Door
✓ Signage
✓ Canopies
✓ Street Locations
✓ Mechanical Equipment
✓ Compass with North
✓ Curbs
✓ Digital Photo Key
✓ Parking Spaces
✓ Landscaping Outline
As-Built Site Plan
✓ Exterior and Interior W.
✓ Doors and Swings
✓ Doors and Swings
✓ Floor Type and Level Changes
✓ Height Walls
✓ Columns B/Joists
✓ Permanent Fixtures
✓ Electrical Panel
✓ Fire Extinguishers
✓ Alarm Pull Stations
✓ Plumbing Fixtures
✓ Room Labels
✓ Digital Photo Key
As-Built Floor Plan
✓  Exterior and Interior Walls
✓ Deck Heights
✓ Columns
✓ Beams
✓ Joists
✓ Sprinkler Lines
✓ Ductwork
✓ HVAC Locations w/ Roof
✓ Digital Photo Key
Reflected Ceiling Plan
As built Plan | As Built
✓ Sections
✓ Curb & Slab Heights
✓ Columns
✓ Doors & Windows
✓ Fixtures, Scuppers & Drain Pipes
✓ Changes in Material
✓ Beams
✓ Joists
✓ Ceiling & Deck Heights
✓ Roof Level
✓ Parking Spaces
✓ Windows & Glass Panes
As-Built drawings are an important part of new construction, renovations, and maintenance.

As-Built construction refers to the actual construction of a structure, space, or area as compared to the original design of the project.

As-Built construction drawings are used to compare and contrast between design versus final construction.

Commercial construction projects frequently rely on As-Built construction drawings to maintain an accurate representation of the building as it actually exists.
FLOOR PLANS
Detailed floor plans showing walls, doors, windows, built-in cabinets, stairs, fixtures and more.
ROOF PLANS
Roof plans showing ridges, valleys, slopes, gutters, chimneys, solar panels, skylights and more.
EXTERIOR ELEVATIONS
Exterior elevations showing facades, doors, windows, downspouts, vents and more.
INTERIOR ELEVATIONS
Interior elevations showing wall surfaces, doors, windows, cabinets, fixtures, shelves and more.
SITE PLANS
Site plans showing building, sheds, decks, patios, fences, walkways, property lines, sidewalks and more.
REFLECTED CEILING PLANS
Reflective ceiling plans showing ceilings, beams, skylights, solatubes, light fixtures, fans and more.
ARCHITECTURAL ELEVATIONS
Architectural elevations showing detailed facade features, trim, reveals, ornaments, materials and more.
STRUCTURAL ELEVATIONS
Structural elevations showing structural elements, materials, beams, posts, columns, connections, and more.
ELECTRICAL PLANS
Electrical plans showing light switches, power receptacles, cable, telephone and more.
MECHANICAL PLANS
Mechanical Plans showing registers, thermostats, furnace, A/C units, heaters and more.
CROSS SECTIONS
Cross sections showing sections of walls, floors, ceilings, roof, foundation and more.
BUILDING OUTLINES
Building outlines showing perimeter footprint of the house, building, sheds, barns and more.
STRUCTURAL PLANS
Structural plans showing structural elements like walls, columns, beams, joists, rafters and more.
SITE ELEMENTS
Site elevations showing sheds, playhouses, trellises, canopies, retaining walls and more.
PAPER TO CAD
Drafting services converting hand sketches, redlines, photographs, PDFs to CAD files.
CAD REDRAFTING
Drafting old floor plans and elevation drawings from the Architect or Building Department.
What You Will Get From Us
Commercial As built Plan | As Built services include:
Site Plans
Existing Floor Plans
Suite Plans
Occupancy Calculations
Lease Area Analysis
Fire Plans
Furniture Plans
Ceiling Plans
Site Condition Inspections
Construction Documents for City Permits
Existing Building Drawings for Historical Buildings and Sites
Existing Elevations
Precision Tools = Accurate Drawings
Based on your needs, we will provide Commercial As-Built Drawings using the latest technology such as sophisticated laser measuring tape, 360 camera, and AutoCAD and Revit tools to ensure the most accurate drawing. Site and floor plans are drawn onsite. Data is provided in any format including CD, DVD, and can be uploaded to an FTP server. If needed, a hard copy can be provided upon request.
We provide the required number of digital photos which are keyed to the floor plan and a survey report with HVAC, electrical, and plumbing information.
Commercial As-Built Surveys are typically used as a basis for design and permitting, site and floor plans are drawn on-site to scale using a variety of laser measuring to ensure accuracy and consistency.